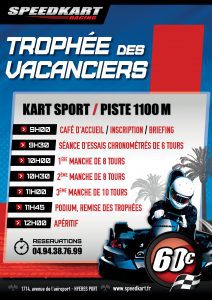 Season's trophy is an individual race like a Formula 1 race which occurs in the 1100m track!
The Challenge is an ideal sportive option to have fun with friends, colleagues or family: thrills guaranteed!!
A very good organization in "Speedkart spirit" (reception, mood and services at the state-of-the-art).
Sport Karts 320cm3 – Track of 1100m
Practice session : 6 turns

1st race round : 8 turns

2nd race round : 8 turns

3rd race round : 10 turns

Podium and awards
An appetizer is served to drivers after the podium for a maximum of conviviality!
NEXT DATES :
Sunday 18th August 2019
Sunday 25th August 2019
Information and booking at +33 (0)4.94.38.76.99